December 28, 1954
Elvis performed at the Cook's Hoedown Club, Houston. Most likely Elvis appeared on other dates in Texas or Arkansas the next 3 days, including the Red River Arsenal near Texarkana.
AND
The single "Milkcow Blues Boogie"/"You're a Heartbreaker" was released.
AND
It was announced that Elvis Presley had signed a management contract with Bob Neal.
December 28, 1957
Elvis rented the Rainbow Rollerdrome for the evening.
December 28, 1966
Elvis returned one of the horses he had bought earlier this month and bought 2 others instead.
December 28, 1970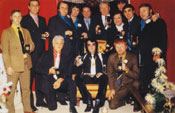 Elvis was best man at Sonny West' s wedding. Elvis arrived all dressed up with lots of guns and badges with him. After a church reception there was a second reception at Graceland. Here was a picture taken with Elvis and all the guys displaying the badges they too had just received from Sheriff Nixon.
December 28, 1971
Elvis continued to screen movies at the Memphian and the Crosstown.
December 28, 1976
Elvis performed at the Memorial Auditorium, Dallas, Texas.
Venue:
Dallas, TX.
Memorial Auditorium
Tickets:
9,800
Costume:
Indian feather (white) suit
Track list:
Also Sprach Zarathustra
See See Rider
I Got A Woman/Amen
Love Me
Fairytale
You Gave Me A Mountain
Jailhouse Rock
O Sole Mio/It's Now Or Never
Trying To Get To You
Blue Suede Shoes
My Way
Polk Salad Annie
[band introductions]
Early Morning Rain
What'd I Say
Johnny B. Goode
Love Letters
School Days
Hurt
Unchained Melody
Can't Help Falling In Love

Recordings:
A Hot Winter Night In Dallas