Elvis in October: A list of important events that occurred in October during the life and career of Elvis Presley
October 3, 1945 — A ten-year-old Elvis sang "Old Shep" at the Mississippi-Alabama Fair and Dairy Show in Tupelo.
October 2, 1954 — Elvis appeared on The Grand Ole Opry in Nashville. He sang "Blue Moon of Kentucky."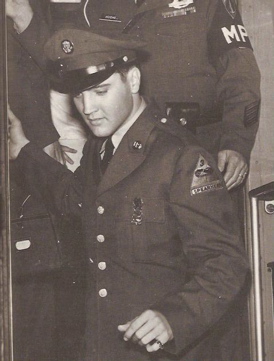 October 11, 1956 — Elvis appeared before 26,500 fans at the Cotton Bowl in Dallas. It was the largest crowd to see him perform in the 1950s.
October 17, 1957 —Jailhouse Rock, Elvis's third movie, premiered in Memphis. Elvis did not attend.
---
Elvis on October 1, 1958, the day of his arrival in Germany.
---
October 28, 1956 — Elvis appeared for the second time on The Ed Sullivan Show . He sang "Don't Be Cruel," "Love Me Tender," "Love Me," and "Hound Dog."
October 28, 1957 — Elvis gave his infamous concert at Los Angeles's Pan Pacific Auditorium. Complaints about the show caused the city vice squad to film Elvis's show the next night to make sure he didn't violate the city's indecency law.
October 1, 1958 — Elvis arrived in Germany aboard the U.S.S. Randall to start his army deployment there.
October 15, 1961 — Elvis recorded "Good Luck Charm" at RCA's Studio B in Nashville.
October 23, 1968 — Elvis's 28th movie, Live a Little, Love a Little, opened in theaters nationwide.
October 9, 1973 — Elvis and Priscilla's divorce was finalized at the Los Angeles County Superior Court House in Santa Monica.
October 29, 1976 — Elvis's Jungle Room recording sessions began at Graceland.