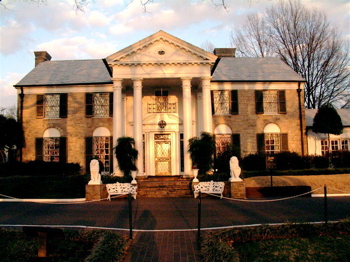 On August 27,1957. Elvis left Memphis for a quick concert tour of the Pacific Northwest and some recording work in Los Angeles. He returned to Graceland on September 11.
The next morning the Graceland gates were locked because gatekeeper Uncle Travis was in the hospital. While he was recovering, the house behind Graceland where he and his family lived was redecorated. Workers put up new wallpaper and refinished the floor.
A few days later, two Whitehaven Welcome Wagon ladies showed up at the Graceland gates to welcome the Presley family to the neighborhood. Mrs. Norma Provost and Mrs. Carol Godwin were pleasantly surprised when they were shown into the house. "What we saw of the Presley home was perfectly gorgeous," Mrs. Provost told the Press-Scimitar, "not gaudy as we had thought it would be from reading about the colors. The living room has red rug, blue walls and white draperies, and there's gold trim on practically everything. Elvis' music room is right off the living room, and it's mostly white."
The two women presented two big baskets of welcoming gifts to Gladys Presley. "We carried gifts from 15 merchants," explained Mrs. Provost. "Fourteen of them wanted to give something special. The other one said no, they should be treated like any other newcomers." The gifts included a gold planter, tea-aprons, a sheet and pillow case set, a set of tea towels, and a large ashtray.
While the two ladies were talking to Gladys, her son came in to see them. "It was 3 in the afternoon and he was wearing black satin pajamas," said Mrs. Provost. After presenting Elvis with a teddy bear as a welcoming gift, the women were told it was the 623rd teddy bear Elvis had received. Mrs. Provost told the newspaper that the Presleys were very appreciative of the special welcome they had received from the Welcome Wagoners.