---
July 23 ON THIS DAY IN ELVIS HISTORY
July 23, 1955
Elvis performed at the Big "D" Jamboree, Sportatorium, Dallas, Texas.
July 23, 1963
The filming of Viva Las Vegas took place at the parking lot of the Sahara Hotel.
July 23,1966
Elvis's "Love Letters" hit #19 in the U.S.
July 23, 1970
Rehearsals for the upcoming show in Las Vegas moved to the RCA studio on Sunset, where they worked from 7.00 p.m. to 1.00 a.m. Elvis ran through more than 60 songs with Ronnie Tutt, Glen Hardin and David Briggs.
July 23, 1971
High Sierra Theater, Sahara Tahoe - Stateline, Nevada
July 23, 1973
Still in the Stax studio two more songs were completed from 11.00 to 3.30 a.m.
July 23, 1975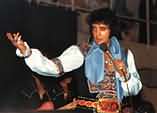 Elvis performed at the Civic Center, Asheville.
July 23, 1976
Elvis performed at the Freedom Hall, Louisville, Kentucky, which is his 5th tour of the year.
Date:
23 Jul 1975
Time:
8.30pm
Venue:
Asheville NC.
Ashville Civic Center
Tickets:
7,437
Costume:
Dark Blue Gypsy suit
Track list:

Also Sprach Zarathustra
See See Rider
I Got A Woman/Amen
Big Boss Man
Love Me
If You Love Me
It's Midnight
All Shook Up
Teddy Bear/Don't Be Cruel
Hound Dog
The Wonder Of You
Turn Around Look At Me
Polk Salad Annie
[band introductions]
Johnny B. Goode
School Days
T-R-O-U-B-L-E
Why Me Lord
How Great Thou Art
Let Me Be There
Shake A Hand
Fairytale
Little Darlin'
Mystery Train/Tiger Man
Funny How Time Slips Away
It's Now Or Never - Promised Land
Can't Help Falling In Love

Recordings:
Gyrating Asheville

Photos:

I

HAVE NO IDEA WHO TOOK THESE PICTURES SO I CAN NOT GIVE ANYONE CREDIT

Comments:
Elvis introduces his father, Vernon after singing Fairytale
__._,_.___
__,_._,___