August 07, ON THIS DAY IN ELVIS HISTORY
August 07, 1954
Elvis performed at the Eagle's Nest, Memphis.
August 07, 1955
First Elvis performed at the Magnolia Gardens, Houston (afternoon show) and then at the Cook's Hoedown, Houston.
August 07, 1956
Elvis performed at the Florida Theater, St. Petersburg, Florida at 3.30, 7.00 and 9.00 p.m.
August 07, 1965
Principal photography began for Paradise Hawaiian Style.
August 07, 1970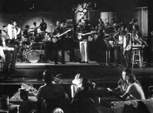 Rehearsals for TTWII with the entire show moved to the main stage of the showroom. For the first time Joe Guercio worked with Elvis and was leading the orchestra,
August 07, 1971
Because the entire group had come directly from performing in Tahoe, the rehearsals were held for just three days at the Hilton showroom, beginning today.
August 07, 1975
Elvis' chow suffered from a kidney ailment and couldn't be moved to the West Boylston veterinary hospital, so the whole party remained at the Ritz for two more days before continuing.
__,_._,___