Jimmie Jensen, left,Elvis Presley, center, along with Chuck Carson
1956 tour of May 13 to 27.

Elvis played two shows in Minneapolis on the first day (St. Paul and Minneapolis
Jensen had his own country western band
in Minneapolis from 1950 to 1959
...
_________________________________________________________________________________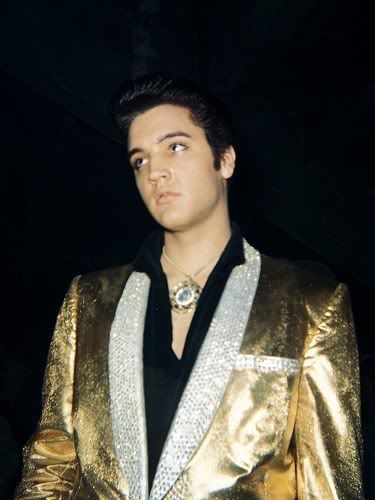 Just before one of the two shows Elvis gave in Ottawa, Ontario, Canada on April 3, 1957.
detail of the pendant around his neck,_________________________________________________________________
September 1, 1957 evening gig in Seattle, at Sick's Stadium

With Seattle Police Officer Phyllis Covington
The Sick's Stadium set list of September 1, 1957, jotted down by young fan Myrna Crafoot, is a good indicator of what Elvis was doing on stage in this period:
Heartbreak Hotel
All Shook Up
I Got A Woman
That's When Your Heartaches Begin
I Was The One
Teddy Bear
Don't Be Cruel
Love Me
Fools Hall Of Fame
Blue Suede Shoes
Blueberry Hill - Elvis on piano
Mean Woman Blues
Hound Dog

It was an auspicious night -- fourteen year-old Jimi Hendrix saw the show, and was blown away.
He would later perform there himself in July 1970.
.
Young Hendrix was particularly fond of Elvis Presley; the color drawing on the right, showing
Elvis wielding a guitar, was made by an impressionable 15-year-old Hendrix two months after
attending Presley's concert at Sick's Stadium on September 1, 1957, as a follow up to his
note taking there, during the concert itself, in which he wrote down the entire line-up of songs
he heard Presley sing that night. Both documents can still be seen at the Rock and Roll Hall of
Fame in Cleveland, Ohio. His reverence to Presley continued even into adulthood, as when he
attended, in late 1968, a late-night screening of Presley's "King Creole", during his time in Paris
and crediting this particular viewing with giving him the additional strength and inspiration
needed to further his career, after his first, uneventful travel to London.