Sir Cliff Richard Visits Graceland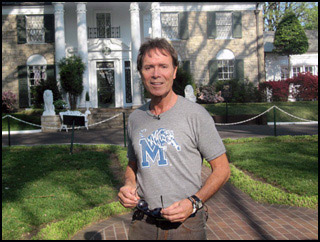 English pop star and Elvis fan Cliff Richard stopped by Graceland this weekend while in Memphis recording a new album. Richard, who has sold over 260 million records worldwide, dominated the British popular music scene in the pre-Beatles period of the late 1950s and early 1960s. His 1958 hit single "Move It" is often described as Britain's first authentic rock 'n' roll song. He continues to record and perform around the world and is the only artist, other than Elvis, to make the UK singles charts in all of its first six decades (1950s–2000s).
This was a return visit for Richard who came to Graceland in the '60s as a guest of Elvis' father, Vernon Presley. Richard was very excited to be back at the home of the King of Rock 'n' Roll and said, "Elvis is the reason I became a rock singer. If he hadn't been around, I don't think there would've been a Cliff Richard either."
One very lucky group of Graceland guests, who happened to be from the UK, had a very special moment when, just before they entered the mansion for their tour, Cliff Richard exited. Their mouths dropped open and one guest said, "CLIFF RICHARD...What are YOU doing here?" Richard responded with a smile, "You never know who you are going to see at Graceland!"

__,_._,___