The Truth Behind "Love Me Tender"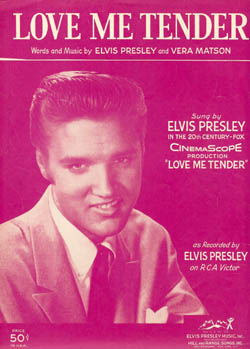 The Legend
In the Wikipedia article on "Love Me Tender" it isclaimed that because Elvis would change the songs he recorded for this film, that's why he might be credited as co-writer.
Most authors and websites still credit Elvis as co-writer of"Love Me Tender" because that's the way it was listed on the original RCA release.
But that is incorrect!

The Truth

Neither Vera Matson nor Elvis Presley wrote the words or the music for "Love Me Tender."
Ken Darby wrote the song -- both the words and the music, which was based on an old Civil War era song, "Aura Lee (or Lea)."
Naturally Elvis was involved in the "creative process" during the recording but according to Darby himself, Elvis listened to what Darby suggested about having a simple vocal delivery and followed that suggestion. Elvis was very respectful on his first film because he had high hopes for his future movie career.
It was actually Colonel (an honorary title) Tom Parker, his shrewd and often ruthless manager, who made sure that Elvis received co-writer credit on his early RCA records, including "Love Me Tender."
This was also true for the biggest Elvis hit of all, "Don't Be Cruel," written entirely by songwriter Otis Blackwell. This shameful practice denied the full royalties to the songwriters who wrote the song. To his credit, Elvis never said he had co-written any of these songs. It was Parker who insisted on songwriting credit to gain more attention and money for "his boy" and to fill Parker's pockets with cash.
The Songwriter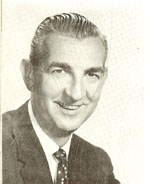 As stated above, the songwriter who wrote "Love Me Tender" was Ken Darby (1909-1992).
Ken Darby began his professional music career as a member of The King's Men. They were featured in early films including B-westerns like The Renegade Trail (1939), starring William Boyd as Hopalong Cassidy.
Later on, he formed the Ken Darby Singers and they frequently performed with Bing Crosby on radio and records. These same singers are featured on Bing's multi-million-selling holiday record classic: "White Christmas."
In the early 1950s, Darby went to work at 20th Century Fox as as an arranger, songwriter and choral conductor.
While working there he received three Oscars for his adaptations of these Hollywood musicals:
The King and I (with Alfred Newman, 1956)
Porgy and Bess (with Andre Previn, 1959)
Camelot (with Alfred Newman, 1967)
He also received a Grammy Award for his work on Porgy and Bess in 1959.

In 2009, Ken Darby was chosen for the Lifetime Achievement Sammy Award.
He wrote all four songs sung by Elvis in Love Me Tender. Darby based the title song on the Civil War era ballad tune,"Aura Lee (or Lea), words by W.W. Fosdick and music by George R. Poulton. Darby probably remembered this song had been used before in movies, especially in COME AND GET IT (1936), Frances Farmer (who sings it in the movie), Edward Arnold and Walter Brennan. Since the new Elvis movie took place just after the Civil War, Darby knew the "Aura Lee" tune would fit nicely in the film's story. He wrote simple and direct words for the tune, which Elvis picked up on and sang it with great warmth and feeling.
Darby had arranged the Civil War era tune and added his own words.
So he should be credited as the ONLY songwriter for "Love Me Tender."
Besides the title song there were three other songs written by Darby:

"Poor Boy"
"We're Gonna Move"
"Let Me"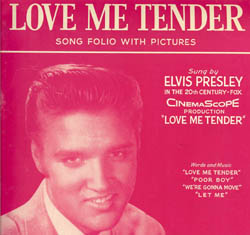 It has been said that Elvis didn't like these songs except the title tune.
Yet Elvis managed to put his stamp on all four songs, maybe because he had deep roots in country music and the simple tunes were well suited to his voice. Darby wrote songs that demonstrated a different side of Elvis, a more polished singer. Elvis wasn't pleased that his usual backup combo of Scotty Moore, Bill Black and D.J. Fontana were not used on the soundtrack. Instead, Ken Darby used studio musicians.
When Darby was asked why his wife's maiden name (Vera Matson) was on "Love Me Tender" as co-writer, he replied: "Well, she didn't write it either!"
Actually, he said he wasn't interested in being credited for such a medicore movie starring the young rock n' roll sensation. He probably thought Elvis wouldn't last as a film or recording star. How wrong he was!
Ken Darby was happy with the royalties his wife received as co-writer of "Love Me Tender."
He said the huge royalties helped to pay for their family boat!