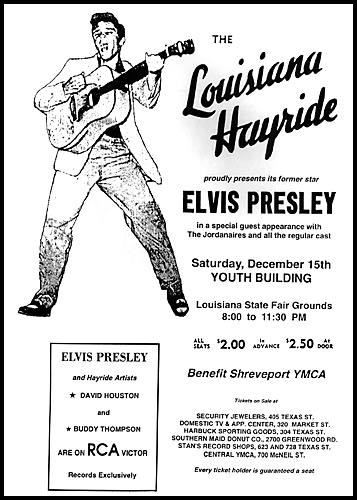 THE LOUISIANA HAYRIDE PROGRAM LINEUP
October 16, 1954 - Municipal Auditorium, Shreveport

8:00 to 8:15 (sponsored by Tube Rose Snuff)
1. Buddy Attaway
2. Betty Amos
"Old Time Religion"
3. Hoot & Curly
"Country Lovin'"
4. Tibby Edwards
"I Know You'll Understand"

8:15 to 8:30 (sponsored by Jax Beer)
Tibby Edwards
"Come On, Chere"
5. Jack Ford
"Pretty Words"
"I Don't Hurt Anymore"
6. Ginnie Wright
"I Want To Be Hugged To Death"

8:30 to 9:00 (sponsored Sal Hepatica)
7. Buddy Attaway
"Big Mamou"
8. Martha Lawson (guest star)
"Mountain Pooka" (yodelling!)
9. Merle Kilgore (guest from Texas; writer of "More And More")
"More And More"
10. Jimmy & Johnny
(Gimme a little kiss, baby...)
11. Jimmie C. Newman
"Can It Be Right?"
"You Didn't Have To Go"
12. Jack Ford sang the theme song for Sal Hepatica

9:00 to 9:30 (sponsored by Lucky Strike)
13. Floyd Tilman (guest star)
"Slipping Around"
"I'll Take What I Can Get"
14. Ginnie Wright
"Tell Me How To Get Married"
15. Elvis Presley (guest star; 19 years old)
"That's All Right, Mama" (rhythm & blues style)
"Blue Moon Of Kentucky"
16. Dobber Johnson
"Black Mountain Rag"
17. Hoot & Curly
"Come Home With Me Today"
18. Tibby Edwards (sings Ray Price's...)
"Love Me Now (Cause I'm Much Too Young To Die)"
19. Dorothy Collins sings LS/MFT
20. Betty Amos
"If Some Folks Would Leave Us Alone"
__,_._,___