Elvis Wasn't the only Fifties Teen Idol
Who Tried to Make It in Hollywood
It has long been fashionable in Hollywood, and even among many of his own fans, to belittle Elvis Presley's movie career. Certainly, many of his films, especially those in the mid to late sixties, were artistically challenged. However, Elvis was a bankable star in Hollywood during his entire thirteen-year run in pictures. All 31 of his vehicles made a profit, and he walked away from the industry on his own terms.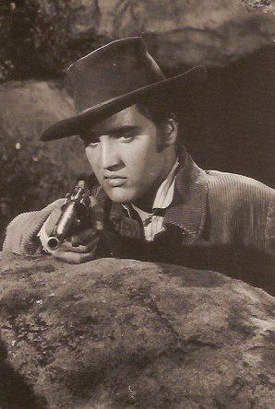 Elvis was certainly not the first entertainer who sought to parlay success as a singer into a Hollywood career. Bing Crosby in the 1930s and Frank Sinatra in the 1940s are the ultimate early examples of singers who went on to achieve great success in pictures. However, there were many other crooners in the pre-rock 'n' roll era who tried but failed to make the transition to the big screen. They included Perry Como, Dick Haymes, Vic Damone, and Johnnie Ray, all of whom made ill-fated attempts at Hollywood stardom.
Elvis was the first rock 'n' roller to achieve success in Hollywood, and his early triumphs with films like Jailhouse Rock and King Creole caused studio execs to search out other young male singers of the late fifties as possible leading men. Like Crosby and Sinatra before him, however, Presley was the only singer of his generation to enjoy a long and profitable career in films. Pat Boone, Frankie Avalon, Fabian, Bobby Darin, and Ricky Nelson were among the recording stars of the early rock 'n' roll era who had some success in Hollywood, only to fade quickly from the scene.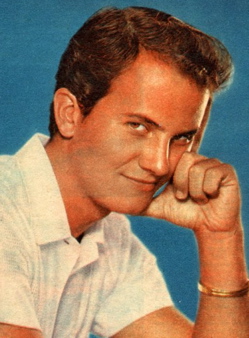 Pat Boone
Early on, Pat Boone was Presley's biggest rival, both on the record charts and on the movie screen. Singing mostly ballads, the clean-cut Boone was the second biggest selling recording artist of the late 1950s, behind only Elvis. In his first movie, 1957's Bernadine, 20th Century Fox handled Boone the same way it did Elvis in his initial film, Love Me Tender, the year before. To compensate for their modest acting ability, both young heartthrobs were surrounded by more experienced actors (Richard Eagan and Mildred Dunnock in Love Me Tender ; Natalie Schafer and Janet Gaynor in Bernadine).
Bernadine was a hit at the box office, and when Boone's second film, April Love, also cashed in, it allowed Boone to finish ahead of Presley on the theater owners' list of "Money Making Stars" of 1957. Boone was third and Presley fourth, trailing only Rock Hudson and John Wayne.
Even with his chief rival for the youth market away in the army for two years, Boone was unable to keep up the momentum. In 1959 he played an ensemble part in Disney's
Journey to the Center of the Earth.
His next big role was in Fox's remake of
State Fair
in 1962. In that one Boone was completely eclipsed by costar Ann-Margret, who would give Elvis all he could handle two years later in
Viva Las Vegas.
Concentrating on gospel music in the 1960s, Pat Boone appeared only occasionally in films. While Elvis churned out two or three movies per year during the decade, Boone's career film appearances total just a dozen movies to date.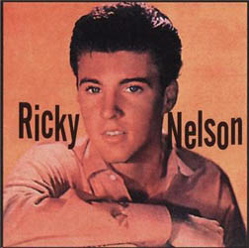 Ricky Nelson
Ricky Nelson, who came on the scene as a singing teen idol in 1957, seemed a natural for film work, considering he had grown up in front of the camera on the his family's weekly television series. Like Elvis, Nelson made his film debut in a Western, 1959's Rio Bravo, in which he received equal billing with costars John Wayne, Dean Martin, and Angie Dickinson. Although the film was a big hit, Nelson seemed out of place in it.
The next year he was cast alongside Jack Lemmon in The Wackiest Ship in the Army. After that off-beat film, Nelson vanished from Hollywood until 1965, when he appeared with his wife, Kristen Harmon, in the forgettable, Love and Kisses. In a fate shared by many of his American contemporaries, Ricky Nelson's Hollywood career, along with his recording career, took a nosedive into mediocrity with the arrival on the scene of The Beatles in the mid-sixties.
The Golden Boys—Frankie Avalon, Fabian, Bobby Rydell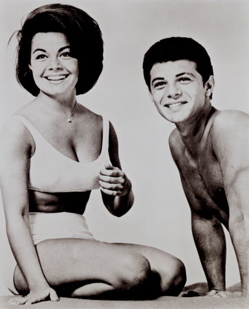 When Elvis entered the army in early 1958, it created a vacuum at the top of the music charts that was filled by three young and handsome heartthrobs from Philadelphia—Frankie Avalon, Fabian, and Bobby Rydell. All put recordings near the top of the charts and later took their chances in Hollywood. Avalon is best remembered for a series of "beach blanket" teen films:
Bikini Beach
(1964),
Beach Blanket Bingo
(1966), and
How to Stuff a Wild Bikini
(1965). After the format faded away, so did Avalon, who was reduced to taking odd show biz jobs and playing the oldies circuit.
Fabian's movie career began with The Hound Dog Man, a moderately successful film in 1959. It earned him a major role alongside John Wayne and Stewart Granger in 1960's North to Alaska. Despite turning in a credible performance in the film, Fabian's Hollywood star quickly faded. In 1962 he had a bit part in The Longest Day, but thereafter was reduced to taking roles in B movies. One of them was Dr. Goldfoot and the Girl Bombs, a 1966 Italian spy-spoof film starring Vincent Price. It has since become a bit of a cult classic.
Bobby Rydell seemed to have hit the jackpot when he landed the role of Ann-Margret's boyfriend in Columbia Pictures' 1962 big screen version of the musical
Bye, Bye Birdie.
Rydell's film career, however, suffered the same fate as Pat Boone's, when Ann-Margret stole the movie, making him and everyone else in the cast forgettable.
Bye, Bye Birdie
was both the beginning and the end of Bobby Rydell's Hollywood career. In recent years, Avalon, Fabian, and Rydell, billing themselves as "The Golden Boys," have toured together, each reprising their fifties hits.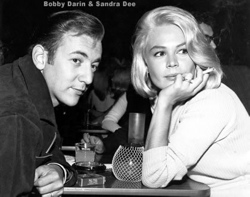 Bobby Darin
Of all the late-fifties pop singers other than Elvis, Bobby Darin showed the most promise in Hollywood. He broke on the pop scene in 1958 with his hit recording of "Splish, Splash." Two years later he married "teen queen" actress Sandra Dee, and together they starred in the comedy film, Come September. Two years later his Hollywood career took a step forward with a fine dramatic role as a Nazi mental patient in Pressure Point, and in 1963 he was nominated for an Academy Award for his supporting role in Captain Newman, M.D. However, personal problems and heart disease slowed his career. He died at the young age of 37 in 1973.
While many contemporary pop singers had spotty careers in Hollywood, Elvis Presley enjoyed continued success in 31 films over 13 years from 1956-1969. The film industry found the light musical comedy formula that worked for him, and Elvis rode that format until he walked away from Hollywood in 1969 to resume his concert career.
His detractors will always downplay his role in movies, but there is no doubt that among all the pop singers of the late 1950s who tried their luck in movies, Elvis topped them all by a mile. What Crosby and Sinatra were to Hollywood in the thirties and forties, Presley was in the 1950s—the young pop phenom whose success in the recording studio catapulted him to stardom in tinsel town.