In its February 15, 1961, issue, Variety reviewed Presley new single in its "Best Bets" column as follows:
"Elvis Presley's 'Surrender' is an updating of the classic 'Come Back to Sorrento' and will be another runaway click because of the vigorous vocalizing that nobody seems to be able to match. 'Lonely Man' has a flavorsome country touch at which Presley is a sure hand, and it, too, is headed for big returns."
That same week, Elvis's new single led off Billboard's "Spotlight Winners of the Week" list. Amazingly, though, Billboard picked "Lonely Man" as the "A" side on the disc:
"Elvis Presley will continue his million hit string with this fine pairing. Top side is from his new movie 'Wild in the Country,' and it is sung with warmth. Flip, just as strong, is an updated version of 'Sorrento.'"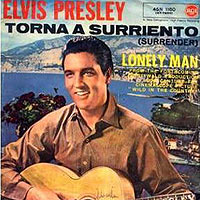 "Surrender" fulfilled expectations on the charts. It debuted on
Billboard's
"Hot 100" at #24 on February 20, 1961. The next week it jumped all the way up to #4, and after spending two weeks at #2, it took over the top spot from Chubby Checker's "Pony Time" on March 20. "Surrender" held the top spot for two weeks, before yielding to "Blue Moon" by the Marcels. Presley's fifth straight #1 single rode the "Hot 100" for a dozen weeks, half of them in the top 5, before dropping off the chart in May.
"Surrender" had an almost identical run on Cashbox magazine's "Top 100 Singles" chart. From February through May 1961, it remained on the chart for 13 weeks, including two weeks at #1 and six weeks in the top 5.
Ironically, though, although it was Elvis's twelfth #1 single and his fifth straight chart-topper, "Surrender" can also be viewed as the end of Presley's singles chart domination. He would only have two more #1 singles over the remaining 16 years of his career. The following short article in Billboard on June 19, 1961, a month after "Surrender" exited the "Hot 100," indicates that RCA may have overestimated the record's sales potential.