Elvis at Madison Square Garden
"He Was Like a Prince
From Another Planet"
On Friday night, June 9, an air of shabby carnival hung over Seventh Avenue. The sidewalks around Madison Square Garden teemed with kids and toothless old men hawking Elvis pennants, Elvis posters, albums of Elvis pictures. There were cops on horses and cops on foot, and vendors with brown paper bags containing Elvis T-shirts circulated among the ticket-holders. But few ticket-holders stopped to buy. They kept moving toward the arena, their excitement so palpable it seemed to cut through the muggy twilight.
That's how
New York Times
writer Chris Chase gently set the scene in the opening of her 1972 article about Elvis Presley's first concert appearance in America's largest city. Although Chase's was just one of hundreds of Presley concert reviews that appeared in local newspapers in the 1970s, it was, in this writer's estimation, far and away the best of them all. While most reporters of that era in Presley's career limited their appraisal of his stage show to descriptions of jumpsuits, song titles, and souvenir scarves, Chase's piece in the
Times'
June 18, 1972, edition is reminiscent of the colorful and imaginative Presley reviews produced by journalists in the fifties.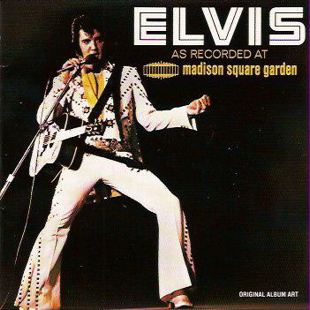 Among the 230 tour stops Elvis made in the seventies, only his 1973 satellite broadcast show in Honolulu can compare in significance with his Madison Square Garden performances. At the time of Elvis's appearance there, the Garden was considered the country's most prominent performance venue due to its huge revenue generating power and its location in the most prestigious entertainment market in the U.S. Elvis began his run at the Garden on June 9, 1972, with a press conference at 4 p.m. followed by a concert that evening at 8:30. The following day there were two more shows at 2:30 and an 8:30. Presley closed out his three-day run in the city with an 8:30 show on June 11.
Both June 10 shows were recorded and later released by RCA. The evening show appeared in 1972 on the LP "Elvis: As Recorded at Madison Square Garden," but the 2:30 show was not released until 20 years after Elvis's death under the title, "Elvis: An Afternoon in the Garden."


"Elvis never left the building like we thought ; you may not be able to see him at the moment..but if you're quiet,long enough..you can still hear him singing..."