Elvis Presley and The Browns
By Alan Hanson

On August 10, 1959, Elvis Presley's "Big Hunk O' Love" reached the #1 position on Billboard's Hot 100 pop chart. It remained there until August 24, when "The Three Bells" by The Browns took over the top spot. It was a memorable event in the career of the country trio from Pine Bluff, Arkansas. In her 2005 book, Looking Back to See, Maxine Brown, who along with brother Jim Ed and sister Bonnie made up The Browns, called the toppling of Elvis from Billboard's premier chart one of the group's "big thrills."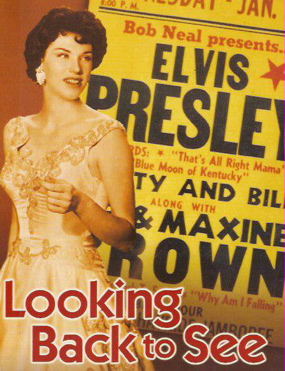 It's not that The Browns saw themselves as Presley's rival in the recording industry of the 1950s. What they shared with Elvis was a personal relationship that grew as both acts struggled to build their musical careers in the mid-fifties. Music allowed both to rise above their poor upbringings. Both Elvis and The Browns recorded their first chart records in 1954, and they played the Southern backwater venues together until fame finally came their way.
Maxine's book is subtitled, "A Country Music Memoir," and that's exactly what it is. Her account of her family's journey through life is filled with the traditional trappings of country music: humble origins, close extended family ties, infidelity, personal tragedies, and professional highs and lows (Two chapters are titled, "We Get Screwed" and "Screwed Again").
While Elvis played only a brief and intermittent supporting role in the career of The Browns, he obviously left an indelible impression on Maxine and her family. The book provides some interesting insights into the relatively obscure early career of the man who rose to be the greatest entertainer of his era.
"He wasn't any better looking than a dozen other young studs on the music scene," Maxine recalls of her initial impression of Elvis. "He was slender and walked with a sexy hitch to his hips. He wore his hair full and wavy, with a teasy strand on his high forehead, and long sideburns, which were just becoming the smoky fashion for the cool cats of those days. But it was those deep-staring eyes that mesmerized all the girls—that and those sexy lips and hips."
The Browns helped Elvis get on the Hayride
The Browns' manager, Tom Perryman, introduced Elvis to Maxine, Bonnie, and Jim Ed (who Maxine calls "J.E." throughout the book). "I'm so happy to meet y'all," Maxine remembers Elvis saying at that time. "I've been listening to the Browns since y'all started." According to Maxine, The Browns later asked Horace Logan of the Louisiana Hayride to give Elvis a chance on the show. "The rest, of course, is history," she notes.
When The Browns toured with Elvis in 1955, Maxine knew him as a down-to-earth young man. "I don't think he ever had a big head or even gave fame a second thought," she recalls. "He was too busy having fun and being young." She saw two sides to Elvis—the shy, sensitive mamma's boy and the wild joker. Maxine dismisses many of the judgments made by Presley's biographers as guesswork. "You had to be with him day to day, facing the grind of the road, to really understand him," she declares.
Maxine writes very little of Elvis's sound in those early days, only that he "looked so young and sweet that you wouldn't have thought he could produce such a big sound." She praises the work of musicians Scotty Moore and Bill Black, who on one tour backed up both Elvis and The Browns.
Later in 1955, The Browns toured again with Elvis, along with the Wilburn Brothers, Ferlin Husky, Faron Young, Martha Carson, and the Carlisles. "I think we had more fun on those tours than we did during the rest of our career," she asserts. Sometimes things got a little wild. "When pickers cut loose after months on the road, they're worse than cowboys after a roundup," she explains. "Lord, there were always snuff queens and diesel sniffers hanging around to party with the guys."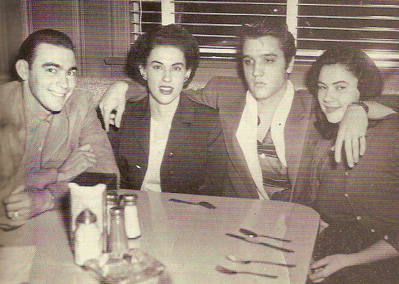 Elvis with The Browns (J.E., Maxine, Bonnie) at the Trio
Club in Pine Bluff, Arkansas, on December 15, 1956.
(Photo by Bruce Clegg of the Pine Bluff Commercial
Maxine remembers when Elvis and her brother began "carousing" together. "Those of us on the tour witnessed their antics and speculated that J.E. and Elvis must be betting on how many girls they could score with in a single night. I'd never seen anything like it in my whole life. Those girls would absolutely stand in line outside their motel rooms, waiting to be next." Maxine says that The Browns' manager, Tom Perryman, noticed what was happening and said, "By God, those boys are gonna wear those things out if they don't slow down."
Elvis and The Browns became ships passing in the night
Toward the end of 1955, Elvis and The Browns went their separate ways. The next time they met was over a year later, when Elvis stopped in Pine Bluff on his way to Shreveport for his last appearance on the Louisiana Hayride. Elvis walked into the Brown family's Trio Club restaurant one evening. "We all knew why he had come by," Maxine remembers. "He wanted to see my Momma and sit around her kitchen like old times, maybe store up some home feelings before he took off to change his life forever."
In 1957 The Browns took Elvis up on his invitation to visit him at Graceland. As Elvis showed them around his new home, Maxine sensed that he felt guilty about his sudden success and the wealth that came with it. "I really think it was a battle that Elvis fought inside for years to come," she concluded. "Maybe that's what drove him so much and accounted for all his excesses. When you can have it all, you find out it doesn't mean that much, because you can never quite get over the times when you knew you didn't have anything."
After Elvis went into the army in 1958, J.E., Maxine, and Bonnie's contact with him faded. They talked with him on the phone once while they were on tour in Germany, and they ran into him at a RCA VIP party in Memphis after Elvis got out of the army. In Looking Back to See, Maxine Brown shares many other anecdotes concerning her family's relationship with Elvis in the mid-fifties.
Country music's influence on Elvis underestimated
In the end, the overriding impression her book leaves with the reader concerning Elvis is this: he spent his formative musical years of 1954 and 1955 immersed in the culture of country music. All of the acts he toured with were country acts—The Browns, Ferlin Husky, Johnny Horton, Hank Snow, Faron Young, Jim Reeves. He never toured with R&B acts like Chuck Berry, Fats Domino, or Little Richard. He felt most comfortable around people who embraced the simple values often voiced in country music lyrics and hymns. Maxine Brown's book suggests that Elvis's debt to country music, with its spiritual underpinnings, is much greater than is generally thought.
"His favorite music, by far, was old-time gospel," Maxine notes of Elvis during those early days on the road. "Many a night, we'd all sit up late and sing the old hymns. Elvis was the last to want to quit. He often said that his big dream was to make it as a gospel artist. That's what his mother wanted for him, too. Who knows, that might have been best for him in the long run."