September 06, ON THIS DAY IN ELVIS HISTORY
September 06, 1955
The band, just got back to Memphis, travelled 80 miles to Bono to perform at the High School Gym, Bono, Arkansas. The attendance was so great that the floor gave away in the middle of the show. Luckily there were no injury's.
Elvis also got himself a new 1954 Cadillac Eldorado which he was showing off to Jimmy Day and others.
September 06, 1957
Elvis went to Radio Recorders again at noon, where he worked on Christmas songs for his new album. At the end of the session at 8.00 p.m. he sung Don't.
September 06, 1971
This was the last day of Elvis' Las Vegas engagement. For the first time Elvis closed the show with a cape. After expenses the Colonel and Elvis earned $351,000 for 4 weeks work. There were a lot of reports in the press about Elvis ' illness and his daily visits to the doctors.
September 06, 1974
Elvis bought his 3rd Stutz Blackhawk. This 1973 model is now present in the car museum at Graceland.
September 06, 1976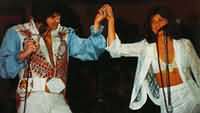 Elvis performed at the Von Braun Civic Center, Huntsville, Alabama, at 2.30 and 8.30 p.m. This was the last time Elvis performed 2 shows on one day.
__
__