The most successful two-sided hit on Billboard's Top/Hot 100 chart was Elvis Presley's "Hound Dog"/"Don't Be Cruel."
One side reached #1 on the chart, the other #2. The two titles spent a combined 55 weeks in the Top 100 in 1956-1957.
No other artist in the rock era, not even The Beatles, had a double-sided hit that could challenge the cumulative chart
performance of "Hound Dog" and "Don't Be Cruel."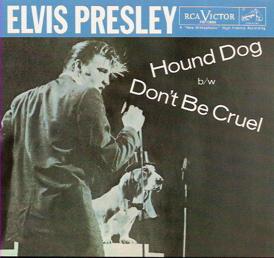 The history of Presley's phenomenal dual record began on July 2, 1956, when Elvis
entered RCA's studios in New York City to record two songs for his next single release.
Accompanying Presley were the Jordanaires and musicians Scotty Moore (guitar),
Bill Black (bass), D. J. Fontana (drums), and Shorty Long (piano).
Going in, "Hound Dog" was the only title on the schedule. Elvis's controversial
performances of the song on the June 5th Milton Bearle Show and the July 1st
Steve Allen Show had created a public demand for its release on record.

__._,_.___