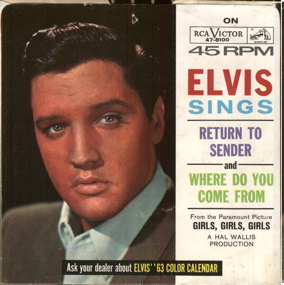 This song had a distinguished pedigree. It was co-written by Hall of Fame songwriter Otis Blackwell, who had previously written the Presley classics "Don't Be Cruel" and "All Shook Up." Elvis also had recorded several other Blackwell compositions, including "Paralyzed," "Fever," "Make Me Know It," and "(Such an) Easy Question."
In a 1971 radio documentary, Blackwell described how he came up with the song title. "I try to get titles that I haven't heard before," he said. "Usually, I try to come up with a title first, and then write the story around it. I was just sitting down writing and I came up with some titles and that seemed like the best one to send to [Elvis]."
In a 1991 interview published in the magazine Elvis: The Man and His Music, Blackwell explained how the song was written and how it got to Elvis. According to Blackwell, Colonel Parker, who was often accused of keeping good recording material from reaching Elvis, was responsible for putting "Return to Sender" in Elvis's hands.
"The first song that Winfield Scott and I wrote for Elvis Presley was 'Return To Sender' … they had given us a movie to do, and in that movie they gave us all these titles to write. And there was only one title that we wrote that came into the movie—'Comin' in Loaded'. We also wrote 'Return to Sender', but 'Return to Sender' was not one of the titles. Colonel Parker had come to New York, and they told me, and I went and met him. And he said that Elvis was going to do this movie, and he had some songs that he had to take back, and he asked me did we have any. So I told him that the only two songs were 'Comin' In Loaded'—we wrote that for the movie—but the other song was not a title they'd given us. He said, 'Well, you gotta' play it for me any way 'cause Elvis loves to hear your stuff.' So I said, 'We'll play this for you … I really believe you should hear it. And if there's any way it can go in the movie, that would be nice.' And I played 'Return To Sender' for him, and he said, 'Don't worry. That will go into the movie. I can tell you that 'cause it's a great song.' Not too long after that they played us the record. You know, I've even forgotten what movie that was in."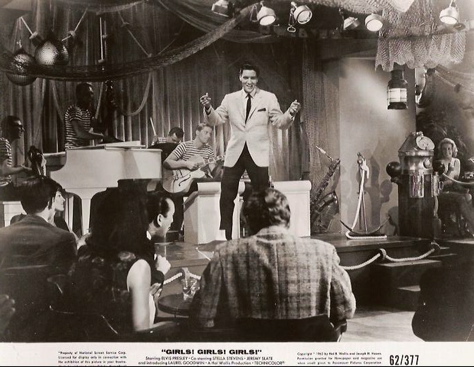 That movie, of course, was 1962's
Girls! Girls! Girls!
In the film, Elvis sings "Return to Sender" in a nightclub scene. It seems a bit strange today to watch Elvis "twisting" while singing what would become one of his iconic hits. The "Twist," of course, was a popular fad dance in the early sixties, so it was reasonable that Elvis integrated its movements into a couple of his stage performances in
Girls! Girls! Girls!
• The Jordanaires were upfront on "Return to Sender"
Elvis recorded "Return to Sender" on March 27, 1962, at Radio Recorders in Hollywood. Presley regulars Scotty Moore, D. J. Fontana, and Dudley Brooks were among an unusually large contingent of musicians in the studio to provide instrumentation for the eclectic collection of songs in the Girls! Girls! Girls! soundtrack. Boots Randolph's baritone saxophone provided the memorable opening notes to "Return to Sender."
The extensive backing vocals of the Jordanaires were given emphasis in recording's final mix. In fact, there is some irony in Colonel Parker bringing "Return to Sender" to Elvis. Parker often complained that the Jordanaires' voices were too loud on RCA's recordings and insisted that they be pushed to the background and Elvis's voice brought to the forefront. In "Return to Sender," however, the Jordanaires' part is so strong that it, at the very least, suppresses Presley's vocal and at times comes very near to overwhelming it.
Elvis's recording had a 16-week run on Billboard's Hot 100. It entered the chart at #68 on October 20, 1962. Two weeks later "Return to Sender" was in the top 10, where it remained for 10 weeks. It never reached #1, however. On November 17 it settled at #2, where it remained for five weeks. Presley's record had the misfortune of being released at the same time as The Four Seasons' "Big Girls Don't Cry," a blockbuster hit that kept "Return to Sender" out of the top spot for all of those five weeks. Elvis's hit did reach #1 for one week on Cashbox's Top 100 Singles chart. However, with the Hot 100 long considered the music industry standard for measuring single releases, "Return to Sender" is usually not included on Presley's long list of #1 records.
Elvis was Big Daddy" on the charts from 1956-1962

In 1962, it seemed that he was at the very top of his game. The recording was Presley's 24th RCA single release, dating back to "Heartbreak Hotel" in 1956. Both sides of all those singles had charted in
Billboard's
Top/Hot 100. At least one side of all 24 singles had reached the top 5 on the chart. Thirteen had reached #1, and "Return to Sender" had almost been his 14th #1. It seemed that nothing could stop the Presley chart juggernaut.
However, , cracks were beginning to show in his historic chart run, and within two years the Presley train had slowed down considerably. The first indication of that was the chart performance of the song on the flip side of "Return to Sender." "Where Do You Come From" made the Hot 100, but just barely. When it charted at #99 on October 27, 1962, and then disappeared the next week, it avoided becoming the first Presley RCA single side to not make the Hot 100. Instead, that dishonor went to "Please Don't Drag That String Around," which failed to chart in the summer of 1963. After that, through the end of his career, many Presley B side singles never made an appearance on the Hot 100.
Not only that, but after "Return to Sender" dropped off the Hot 100 in February 1963, the chart performance of Elvis's A sides began to deteriorate. His next single, "One Broken Heart for Sale," peaked at #11, making it the first RCA Presley lead side single not to make the top 10. Then came the disastrous 1964 releases— "Kissin' Cousins" (#12), "Kiss Me Quick" (#34), "Viva Las Vegas" (#29), "Such a Night" (#16), "Ain't That Lovin' You Baby (#16).
Of course, The Beatles' domination of the U.S. charts in 1964 had something to do with Elvis's decline, but an equally damaging factor was the defection of some of Elvis's top songwriters. For instance, Aaron Schroeder, co-writer of Presley #1 records "A Big Hunk 'O Love," "Stuck on You," and "It's Now or Never," stopped writing for Elvis following a copyright dispute over "Good Luck Charm" in 1962. And soon after "Return to Sender," Otis Blackwell compositions would stop coming Elvis's way. The result was a dreary procession of cover tunes, RCA rejects, and soundtrack songs being issued as Presley's singles for the next half dozen years.
• Say "return to sender" and people think "Elvis Presley"
"Return to Sender," then, was the last in an unprecedented series of 24 consecutive major Hot 100 hits for Elvis Presley. When I became an Elvis fan while "Return to Sender" was on the charts, I didn't know that I had just caught the end of that glorious ride. Still, I remained a fan, as his musical and acting career headed steadily downhill in the sixties until he momentarily caught his stride again in 1969.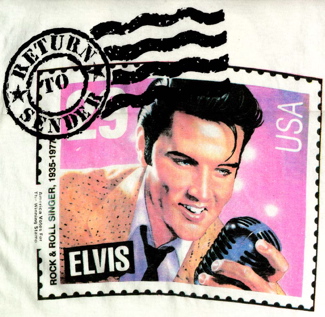 Over four decades after his death, there are still two expressions that, when heard, immediately bring Elvis Presley to mind in the public consciousness—"All Shook Up" and "Return to Sender." On what would have been Elvis's 58th birthday on January 8, 1993, the U.S. Postal Service issued a commemorative stamp bearing his image. According to
Wikipedia,
"Many stamp collectors mailed envelopes, franked with this stamp, to fictitious addresses in the hopes that they would receive their letters not only postmarked with the first day of issue, but also with a 'return to sender' postal marking."