Rare Photo of Elvis in 1957
Found in Spokane Antique Store
While images from some of the other cities were difficult to come by, I thought finding some from my hometown would be easy. The
Review
, after all, had printed several pictures after Elvis's appearance in Spokane on August 29, 1957.
Over the phone, the newspaper's head photographer told me the Review's negatives had been thrown away years ago, but that files of archived prints had been saved. He was sure he could find something for me in their Elvis file. He was surprised and I was dismayed to find that someone unknown employee had lifted all of the paper's Presley prints sometime in the past.
Eventually I was able to find two, and only two, photos from Elvis's 1957 Spokane visit—one of him arriving at the train station and one at his pre-concert press conference.
Imagine my excitement recently, then, when I discovered the following somewhat faded 5" X 7" print for sale in a Spokane antique store.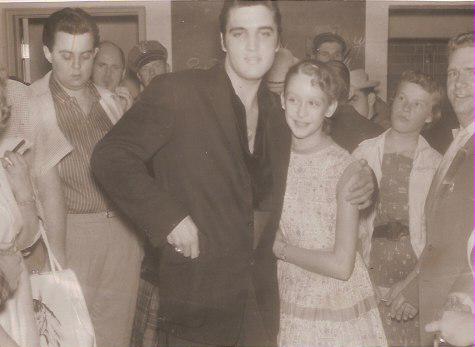 Even better, the image's history was explained in an accompanying typewritten note and a newspaper clipping. After some haggling, I purchased the photo and documents for $25.
• Photo taken at dressing room press conference
The picture was taken at Elvis's press conference in the locker room of Memorial Stadium (since renamed Albi Stadium) prior to his show on the stadium's football field on the evening of Thursday, August 29. Presley had arrived in Spokane near midnight the previous evening after a 50-hour train ride from Memphis. The opening stop on a five-city Pacific Northwest tour, Elvis's show in Spokane has never been more than a footnote for Presley's biographers, who have instead concentrated on Presley's controversial and riotous show in Vancouver, B.C., the next night.
Elvis arrived at Memorial Stadium in the far northwest corner of Spokane for his press conference at 8 o'clock, just as the opening acts began their procession across the stage on the field. He entered the dressing room building at the north end of the stadium to face a collection of reporters, djs, and photographers. Also present were a cluster of young girls. Most were fan club officers, winners of radio station contests, and journalists for local high school newspapers.
Having the right connections got a few others in the door. One of those was 12-year-old Michele Green, who can be seen snuggling with Elvis in the above photo. Others clearly identifiable in the image are Lamar Fike (to Elvis's left), Colonel Parker (behind Fike's shoulder), and Parker's assistant Tom Diskin (far right).
• Small town girl met Elvis with uncle's help
Michele lived in Wilbur, Washington, a town of less than a thousand people, about 60 miles west of Spokane. Her picture with Elvis, along with the following caption, appeared in The Wilbur Register on September 19, three weeks after Elvis's Spokane show.
Michele Green, daughter of Mr. and Mrs. George Green, Wilbur, occupies an enviable position in the above picture for she stands beside the one and only Elvis Presley, the singer with a voice and a wiggle that have captured the admiration of young people throughout the country. Michele, through the influence of her uncle, a Spokane city official, was permitted to meet Elvis at a press conference prior to his recent concert in Spokane.
The typewritten note that accompanied the photo when I purchased it was written by Patt Bell, Michele's aunt, who lived in Spokane. The reference to Michele's age in the note indicates that it was written in 1999. (It makes me wonder if this photograph has been on display in that antique store ever since.) The note reads:
Many people met Elvis Presley at his arrival at the Spokane stadium before his first concert. Authorities "checked out" his performance routine before allowing his concert to take place. Michele's uncle arranged for this photo. She is 53 years old now and lives in Olympia, Washington, as a retired business woman.
Elvis is wearing a ring on his right hand finger and an amulet type jewelry around his neck which were among his jewelry auctioned off recently to raise funds for a children's hospital in the east. He was about 22 years old at the time of this photo. On his second visit to Spokane people were not allowed to be so close to him.
There are only two copies of this photo. One belongs to Michele and the other to me. — Patt Bell
The note contains several interesting assertions. First, Elvis did not rehearse in Spokane before his concert there, so it's hard to imagine how city officials could have "checked out" his routine before allowing the show to take place. Second, I've always wondered what happened to that gold medallion that Elvis wore around his neck in Spokane. (He also wore it onstage in Ottawa, Philadelphia, and Tupelo in 1957.) I wonder if it really was auctioned off, as Patt contended. Finally, Elvis's second visit to Spokane, referred to in the note, came in 1973. He came back a third time in 1976.

Two other girls recall meeting Elvis in Spokane
A couple of other girls have recorded their experiences of meeting Elvis at the Spokane press conference in 1957. Elvis fan club member Karen Larson posted her remembrances online. "My heart was pounding so hard I thought it would come right out of my chest," she recalled. "Elvis was the most handsome hunk you could ever hope to see. Those beautiful blue eyes and long lashes would make anybody's blood go past the limit. It was a very exciting time. He was such a nice person and I got three autographs that night and a lifetime of memories."
Ilah Black was there too but not with the blood-pulsing passion that infected most of the other girls who were present. Age 17 and a staff member on the Lewis and Clark High School newspaper, Ilah went to Elvis's Spokane press conference, not as a fan, but as a member of the working press. Elvis did earn Ilah's respect, however, if not her everlasting devotion. "After the interview Elvis graciously signed autographs and posed for pictures," she noted in her school newspaper article. "Before meeting Elvis I was inclined to dislike him, but afterward I decided he doesn't deserve all the unfavorable comments he receives."
Ilah didn't mention whether or not she took advantage of the opportunity to have her picture taken with Elvis. But I wonder how many young girls did so in Spokane and elsewhere in 1957, and now in their sixties and seventies still have those treasured photos locked away unseen by the rest of the world. Whatever the number, you can subtract one, now that Michele Green's photo has been unearthed and shared with the Elvis Universe.