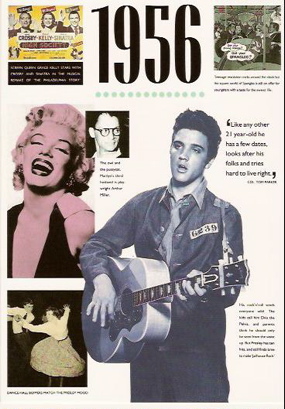 Elvis made record chart history in 1956. During the year he placed 17 different songs on
Billboard's
Top 100 singles chart, including 3 singles that reached #1—
Heartbreak Hotel, Don't Be Cruel,
and
Love Me Tender.
Presley also made TV history in 1956. He appeared on prime-time network variety shows 11 times, including 6 appearances on
Stage Show
with Tommy and Jimmy Dorsey; twice on
The Milton Berle Show;
once on
The Steve Allen Show;
and two times on
The Ed Sullivan Show.
In 1956 Elvis also took the first step in a long Hollywood career with the release of his first film,
Love Me Tender,
in November.
Throughout the year, however, Elvis continued to take his stage show directly to the country's teenagers. In 1956 the newly crowned "King of Rock 'n' roll" appeared in concert 143 times in 79 different cities. His commitment to live shows in 1956 helped build the loyal fan base that would be the foundation of his continuous popularity in future years. —
__._,_.___
__,_._,___