In the mid-fifties,
Billboard
reviewed selected 45 rpm single releases in two weekly columns. The first, labeled "Review Spotlight," briefly assessed and recommended new releases that the magazine felt had potential for commercial and chart success. If a "Spotlight" single sold well in key markets, it might be featured again in
Billboard's
more prestigious "This Week's Best Buys" column. All of Elvis's single releases in 1955 and 1956 were mentioned in one or both of these
Billboard
columns.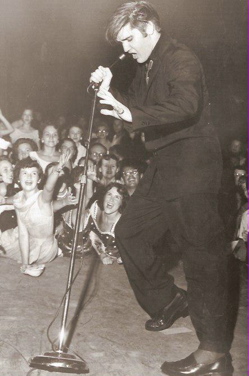 January 29, 1955:
Billboard
reviewed "Milkcow Blues Boogie" / "You're a Heartbreaker" (Sun #215) "'Milkcow Blues Boogie' … Presley continues to impress with each release as one of the slickest talents to come up in the country field in a long, long time. Item here is based on some of the best folk blues. The guy sells all the way. 'You're a Heartbreaker' … Here Presley tackles the rhythmic material for a slick country-style reading. What with the good backing this one should get action, too."
__._,_.___
__,_._,___