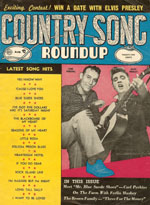 In the August 1956 issue of COUNTRY SONG ROUNDUP, with Carl Perkins and Elvis Presley on the cover, there is a poll of favorite singers compiled from magazine readers and from the Jimmie Rodgers Day Committee in their poll of the Country music trade. The magazine wrote that:
"The achievements of Mr. Presley, of course, need no further explanation. All we can do is agree that he's one of the most dynamic performers to ever hit the music scene - and a wonderful boy besides."
Here are the results for the top singers of 1956:
Top Ten Male Singers

1. ELVIS PRESLEY
2. WEBB PIERCE
3. FARON YOUNG
4. HANK SNOW
5. CARL SMITH
6. ERNEST TUBB
7. WILBURN BROTHERS
8. RED FOLEY
9. SONNY JAMES
10. JIM REEVES
Top Ten Female Singers

1. KITTY WELLS
2. JEAN SHEPARD
3. GOLDIE HILL
4. WANDA JACKSON
5. JUNE CARTER
6. CHARLINE ARTHUR
7. PATSY CLINE
8. MARTHA CARSON
9. HARVIE JUNE VAN
10. ANITA CARTER
"Folk Music Fireball"
COUNTRY SONG ROUNDUP (Vol. 1/ No. 40, September 1955) under the column: "Folk Music Fireball."
When writing about his SUN first record --"That's All Right" and "Blue Moon of Kentucky"-- the magazine claims that "the disc represented something new in records: the unusual pairing of an R&B number with a Country standard."
The magazine also describes Elvis as: "the big blonde guy" whose hobbies include movies, listening to records, practicing football, and eating. His girlfriend Dixie was quoted saying that Elvis "ate 8 Deluxe Cheeseburgers, 2 Bacon-Lettuce--Tomato sandwiches--and topped it off with three chocolate milk shakes."
Guess he was still a growing boy!
Here is part of what was written about Elvis in a popular magazine about his early career:
Every so often a newcomer to the Country music scene stirs up a fuss with a different kind of record, an unusual singing style or a 'gimmick' of one sort or another. The latest sensation these days is 19-year-old Elvis Presley, a handsome, strapping Mississippi boy who's a ball of fire when it comes to putting over a tune. Recording on the Sun label and a regular member of the KWKH 'Louisiana Hayride,' in Shreveport, young Presley is enjoying the reality of his life's dream: to sing for people and hear the spontaneous applause that means he's a hit.
When Elvis was a younster down in Tupelo, Mississippi, folks used to stop him on the street and say, 'Sing for us, Elvis.' And he would...standing on the street corners, in the hot Mississippi sun...or in church...or at school...anywhere someone wanted to hear him, he'd sing..
'That's All Right' and 'Blue Moon of Kentucky,' Elvis' first Sun waxings, were also his first professional work of any kind. He's a self-taught musician and worked ut his unique style while listening to records and picking out the tunes on a cheap ($2.98) guitar...
Since the release of his two-sided hit, Elvis has been making personal appearances and bringing the house down every time...
There's no doubt about it -- this youngster is a real 'Folk Music Fireball.'
-- COUNTRY SONG ROUNDUP (September 1955)