Buddy Holly knew Elvis "quite well"
Although a year younger, Buddy Holly got started in professional music before Elvis. Around 1951, when Buddy was 15 years old, he started jamming with another Lubbock musician, Jack Neal. The two put together a country and western act and played live entertainment Saturday morning for youngsters at Lubbock movie theaters. In September 1953, "The Buddy and Jack Show" made its debut on KDAV radio. On November 10 that year, a station DJ recorded an acetate of the duo singing and playing. It was just a few months after Elvis had walked into Sam Phillips's Memphis Recording Service to make an acetate of "My Happiness" and "That's When Your Heartaches Begin."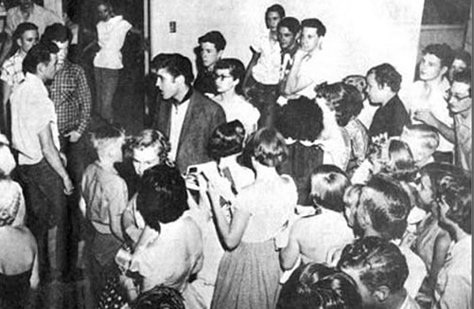 Elvis Presley and Buddy Holly (far right with glasses) in Lubbock, June 3, 1955
Everything changed for Buddy when Elvis came to Lubbock five different times in 1955. "What is certain beyond any doubt," Amburn declared, "is that when Elvis Presley hit Lubbock in 1955, he transformed all the C&W pickers in Buddy's circle into rockers. 'Without Elvis,' Buddy once said, 'none of us could have made it.' Though rock 'n' roll had burst on the world of West Texas the previous year with Bill Haley's 'Shake, Rattle, and Roll,' it was Elvis who whispered freedom into the ears of embattled Baptist boys like Buddy and unleashed a new generation of rockabillies."
The extent of Buddy's personal relationship with Elvis in 1955 is unclear. "Buddy and Elvis got along pretty good," Larry claimed. "When Elvis came to town, Buddy found him a girl. She was not anyone you'd find on this side of town." As for Buddy, during his Australian tour in 1958, he told a DJ that he'd once known Elvis "quite well."
Back in Lubbock in 1955, though, Elvis was clearly Buddy Holly's idol. Buddy even made a leather guitar case for his J-45 that matched the one Elvis used to carry his Martin D-28. "I Forgot to Remember to Forget," Elvis's Sun record that topped Billboard's
C&W chart in late 1955, was Buddy's favorite Presley song. Late in the year, Buddy and his band performed on "The Big D Jamboree," Dallas's Saturday night country and western radio show. Sid King, another musician on the show that night, described Buddy as "virtually a carbon copy of Elvis."
According to Amburn, in 1955 there was another Lubbock visitor who would play an important role in the careers of both Elvis Presley and Buddy Holly. Colonel Tom Parker came to town looking for a talent to manage. Amburn says that both Elvis and Buddy "intrigued" the Colonel, who decided to focus on Elvis. He thought enough of Buddy, though, to recommend him to Nashville talent agent Eddie Crandall.
That led to Buddy's first big break in show business. When he and his band opened for Bill Haley and the Comets at Fair Park Coliseum in October 1955, Crandall was there to see Buddy. On December 2, Buddy signed an exclusive management contract with Crandall. That was less than two weeks after Elvis left Sun Records and signed a contract to record for RCA. Soon Crandall got Buddy a record deal with Decca.
As 1956 dawned, it looked like both singers's dreams of fame and fortune were about to come true. Both Elvis and Buddy had January dates in Nashville for their first recording sessions for their new labels. While 1956 would turn out to be a spectacular breakout year for Elvis, for Buddy it was a year of failure and exploitation that would test his resolve to make it as a professional entertainer. In RCA's Nashville studio on January 10, Elvis recorded "Heartbreak Hotel," which would reach the top of Billboard's
pop chart in May, launching Presley's fabulous run through the end of the decade. Meanwhile, Buddy's Nashville Decca session on January 26 was a disaster that led to nowhere.
Death brought fame to Buddy Holly
Recognition as one of rock 'n' roll's pioneers, denied him in life, came to Buddy in many forms in death. In addition to being charter members of the Rock and Roll Hall of Fame, both Holly's and Presley's images appeared on U.S. Postal stamps in 1993. Buddy had five entries—"That'll Be the Day," "Not Fade Away," "Rave On," "Peggy Sue," and "Everyday"—on Rolling Stone's
list of the 500 Greatest Songs of All Time. (Elvis had 11 on the list.) "That'll Be the Day" and "Peggy Sue" are on the Rock and Roll Hall of Fame's list of songs that shaped rock 'n' roll.
No Graceland exists for Buddy Holly pilgrims. His birthplace in Lubbock was demolished years ago, and in the 1990s, his family sold off their Buddy Holly keepsakes and memorabilia. In Lubbock there is the Buddy Holly Center, inside of which is The Buddy Holly Gallery, a permanent display featuring, according to the center's web site, "Artifacts owned by the City of Lubbock, as well as other items that are on loan." Included in the display are "Buddy Holly's Fender Stratocaster, a songbook used by Holly and the Crickets, clothing, photographs, recording contracts, tour itineraries, Holly's glasses, homework assignments, and report cards."