Toledo 1956
Elvis Rumbled in a Bar …
Then Rocked on Stage
'Tis news for the teen-aged gentry we have today. 'Tis news which indubitably will cause vociferous demonstrations among the numerous rock and roll addicts who are shrieking standard bearers of the side-burned, guitar whacking Elvis Presley. The boy millionaire from the hills of Tennessee is coming to town. That's what we said. He's to visit Toledo in person.
| Mitch Woodbury Reports, The Toledo Blade, November 5, 1956

It was just a four-city tour in late November 1956. Elvis would play three Ohio cities and close out his final tour of the year in Louisville. He would open up in Toledo on Thanksgiving Day before moving on to Cleveland. Elvis had played that latter metropolis twice the previous year and had performed in Dayton and Columbus earlier in 1956, but this would be Toledo, Ohio's, first exposure to the Presley whirlwind.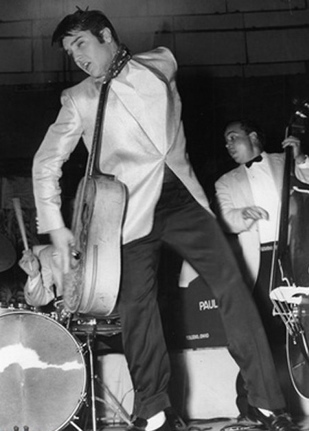 Elvis had been off the road for over five weeks, but his fame had only increased during his absence from the stage. In the interim, he had made his second appearance on
The Ed Sullivan Show
and filmed his first movie in Hollywood. In fact, when his show rolled into Toledo on November 21, Elvis founded himself in the rare situation of competing with himself.
Love Me Tender
, which was released nationally that day, began its run at Toledo's Paramount Theater. The city's teenagers had the opportunity to see Elvis on the big screen in the afternoon and then see him live on stage the same evening.
Presley was booked in Toledo's Sports Arena for two shows at 2:30 and 8 p.m. His 30-minute appearance on stage would be preceded by six opening acts, pushing the show's running time to two hours. To get Presley, the 7,500-seat Arena had put up its highest guarantee amount in its history. Arena Manager Andy Mulligan stated that to get Elvis to play this four-city tour, his handlers had to buy him a new Thunderbird. (An obvious example of spurious Colonel Parker propaganda.) The contract also called for sponsors to provide 20 extra policemen for security at each show.
• Presley Pummeled Jealous Husband
Local law enforcement, however, came in contact with Presley in Toledo before he ever set foot on the Sports Arena stage. The day before the concerts, Elvis and his entourage arrived in the city and checked into the Commodore Perry Hotel. While sitting in the hotel's Shalimar Room bar with his band mates, Presley was confronted by 19-year-old Louis Balint, who shouted, "My wife carries your picture but doesn't carry mine."
Charles Gilmore reported on the resulting fracas in the
Blade
: "The free-for-all that followed was broken up by police who found Presley pummeling his accuser who, meanwhile, was endeavoring to toss one of the musicians, Scotty Moore, over a railing that surrounds the Shalimar Room Terrace." The cops hauled off Balint, who was later sentenced to seven days in the Workhouse by a Municipal Court judge. Meanwhile, Elvis received some national press coverage that only increased his image as a rough-and-tumble rebel.

The next day Presley's show didn't quite sell out the 15,000 seats available for his two appearances. With tickets priced at $2 and $2.50, 13,125 patrons paid a gross of $28,200, of which Elvis left town with $16,000. The gross broke the Arena record of $24,000, formerly held by Bob Hope. Added to Presley's take was an undetermined amount paid for souvenir albums, photographs, popcorn, and binoculars. More showed up to see Elvis in Toledo than had come out to listen to the combined free speeches of Presidential candidate Adlai Stevenson and Vice President Richard Nixon.
• Elvis "stumbled" onto stage
Following the series of acts opening the afternoon show, Elvis finally appeared from the back of the stage. "Presley stumbled forward," noted Gilmore in the Blade, "looked about in an almost bewildered amazement and launched into his first number." Screaming teenagers dominated the audience, but not all of the youngsters in the crowd joined in the uproar, according to Gilmore. "The cut-off point of his popularity was obvious. The scattering of 10 and 11-year-olds in the audience couldn't have cared less. Their reactions ranged from utter indifference to occasional screams, which they could see by looking about, appeared to be the thing to do. They liked the magician on the program better."
Elvis's half-hour of songs was accompanied by what Gilmore termed, "torso twistings described in the burlesque trade as 'bumps and grinds.' The noise rose to a higher pitch each time Presley writhed his torso in rhythm with the beat, or stumbled across the stage in a relaxation that bordered on utter collapse." At one point, foreshadowing his scarf handouts of the '70s, Elvis took off his tie and threw it into the audience. Twelve-year-old Marsha Neill, who caught the tie, later refused an offer of $30 for it.
The screaming in the arena rose to the level of hysteria at times, but the kids were generally well behaved and kept near their seats until Elvis's finale. When he broke into "Hound Dog," his standard closer, according to Gilmore, "it was the signal for the surge to the stage by thousands of youngsters who obediently had kept in their seats throughout the performance. They broke out and jammed down the aisles as an extra crew of 20 policemen watched helplessly."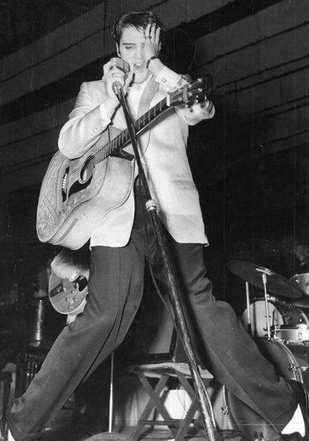 By the time they got to the stage, however, Elvis was gone, escaping through the rear of the stage into a car that took him back to his hotel. Arena manager Mulligan gave a girl bus fare home to Detroit after she lost her purse in the scuffle to get at Elvis after the matinee.
• Writer claimed fans were coached when to scream
Gilmore drew the ire of some Toledo teenagers for his criticism of Presley in his Blade review the next day. "Elvis Presley boasts he has never had a music lesson, an educational void he clearly demonstrated when he performed," Gilmore declared. The writer also stated that the master of ceremonies coached the crowd on "how to scream, when to scream and where to scream."
Presley's faithful followers fired back in letters to the editor printed in the Blade a week later on November 30. "Elvis has a talent that most teen-agers like," read one letter, signed by four girls. "Most of the parents of today and The Blade critics forget when they were teen-agers. They went batty over such as Frank Sinatra and Betty Gable … You had your turn, now let us have ours."
Billie McAtee wrote to counter Gilmore's claim that the fans were coached. "He was wrong," she declared. "There is one thing that was said, we were told to give him a big welcome and that is what we did. The screaming done after that was because of Elvis, himself, and not because we were coached."
In another letter, Jackie Heinisch disagreed with Gilmore's comments critical of Elvis's singing ability. "Then [Gilmore] went casually on to say he could not hear him. Now if he could not hear him, how could he pass judgment on his singing? Why doesn't he try listening to Elvis' records once, which he obviously never has, and he will be able to see why millions of people buy those records … Maybe he does not concur with me that Elvis is one of the best singers in our country (everyone to his own opinion) but I do not believe Elvis's performance merited the harsh criticism which Mr. Gilmore seemed delighted to give."
• Elvis almost waited too long to return to Toledo
If Elvis followed his usual tour pattern, late that Thanksgiving night he and his immediate entourage would have made the short 110-mile drive eastward on the interstate to Cleveland, where he was scheduled to appear the next day. (He may have made the drive the next morning. Since a strike had shut down the Cleveland newspapers at that time, his arrival date in that city is uncertain.)
Meanwhile, Toledo would have to wait a long time for Elvis to return. In 1956 he left the city a vibrant, energetic 21-year-old. When he returned to Toledo on April 23, 1977, he was 42 and in poor health. Elvis Presley died just 16 weeks later.